Problem:
For designers to adapt to change and continuously learn new skills, they need to develop a growth mindset and change their environments.
Solution:
 Malleable Design Experience is a program designed for designers to introduce a growth mindset and enable career success through cultural and international exposure.
Timeline:
20 weeks (2020 - 2021)
Role: Design Research, Design Methods,Branding, Design, UX/UI
01 Project Planning and Positioning
The focus of this project is to use design management methods to introduce a growth mindset for designers to enable career success to bring new innovative ideas to design and impact real change in the world.
Designers have the power to innovate and influence change in the world. Research and data were collected by using design management methodology to analyze and synthesize ideas to help designers embed a growth mindset.
Secondary Research Summary
I have researched the courses included in design curriculums that help designers develop a growth mindset in undergraduate education and online design programs.
Through my research, I have found that MIT and Parsons have collaborated to build an innovative design curriculum for the Dubai Institute of Design and Innovation (DIDI). It is a structure of design majors that are different yet connected. They give the student the freedom to pick two design majors to study to broaden their knowledge and expertise in design innovation. 
Most of the other universities I have found tend to focus their undergraduate education on one specific major with a blend of classes from art history to types that focus on their craft. Yet, some universities offer free classes for their students that would help strengthen other skills.
Along with my research, I was curious about where professionals would learn and develop a growth mindset. I found out that some tech companies offer leadership programs for designers or offer funding to hire a career or mindset mentor to help develop the growth mindset. 
A great resource I have found is Dr. Carol Dweck's book "Mindset: The New Psychology of Success." Dweck, in her book, explains the types of mindset people could have, the fixed and the growth mindset. She discusses how children are raised and how that can have a great effect on their mindset. Dweck's overall research will help my study by offering different ways to develop a growth mindset for designers. My goal is to connect what Dweck has in her research to develop ways made explicitly for designers to grow and succeed in their careers, just like the children who succeeded by the "not Yet" method.
For
designers
who
want to develop a growth mindset to succeed in their careers.
(our)
programs will prepare designers with the workshops and the skills they need by offering coaches and travel trips designed for designers to learn new skills, like servant leadership, humbleness, and empathy, and grow their mindset to help them succeed and be agile in the fast-growing industry.
We do this by
partnering with design universities and tech companies to create a unique framework for designers by offering a tailored program to the designers' growth needs.
Unlike
Online courses that are not instructor-led and mindset coaches who are hard to find, expensive, and not specialized for designers, we offer designers the right programs.
Our
program will help designers learn how to change their mindset, adapt quickly to change, and be more creative. The program will increase adaptability and creativity in the workplace and lives to position designers for success.
I conducted in-depth interviews with 8 different design professionals and sent out surveys to collect data. According to the data collected, designers are developing and learning new skills every day to grow in their jobs and career. Some designers are struggling to develop a growth mindset, yet they embrace new challenges in their journey. This data means that designers seek the growth mindset but do not have a set structure to develop the growth mindset and do not know where to go to develop it.
Through conducting interviews, I have learned a lot about design professionals and educators. One thing that is common through all of my interviews is that most of my interviewees are curious creatives who designed their career paths and were not afraid to take risks independently. I was amazed by how many designers were happy to give feedback and participate in this research project. Designers who worked at IDEO, Google, YouTube, IBM, and Professors, everyone was humble to share their experience and feedback.
Data Processing & Analysis
To analyze all the collected data, I created an affinity map that enabled me to organize the data collected from interviews, survey results, and other methods. I found insightful patterns after analyzing the data.
I used the following methods and frameworks to frame and visualizes the data: Input-Output Diagram, Personas, Empathy Maps, and Journey Maps
03 Design Opportunities and Criteria
Using the data collected and research findings, I concluded possible design opportunities. This allowed me to measure these opportunities on a design map and build design criteria to identify which ideas I will be moving forward with.
04 Prototype Development and Testing
I used SWOT analysis and evaluation to narrow down the possible design concepts. After the concept selection, I revisited the journey map to update the experience. I used my research to define features, outline the experience, create a data flow map, test and validate my findings.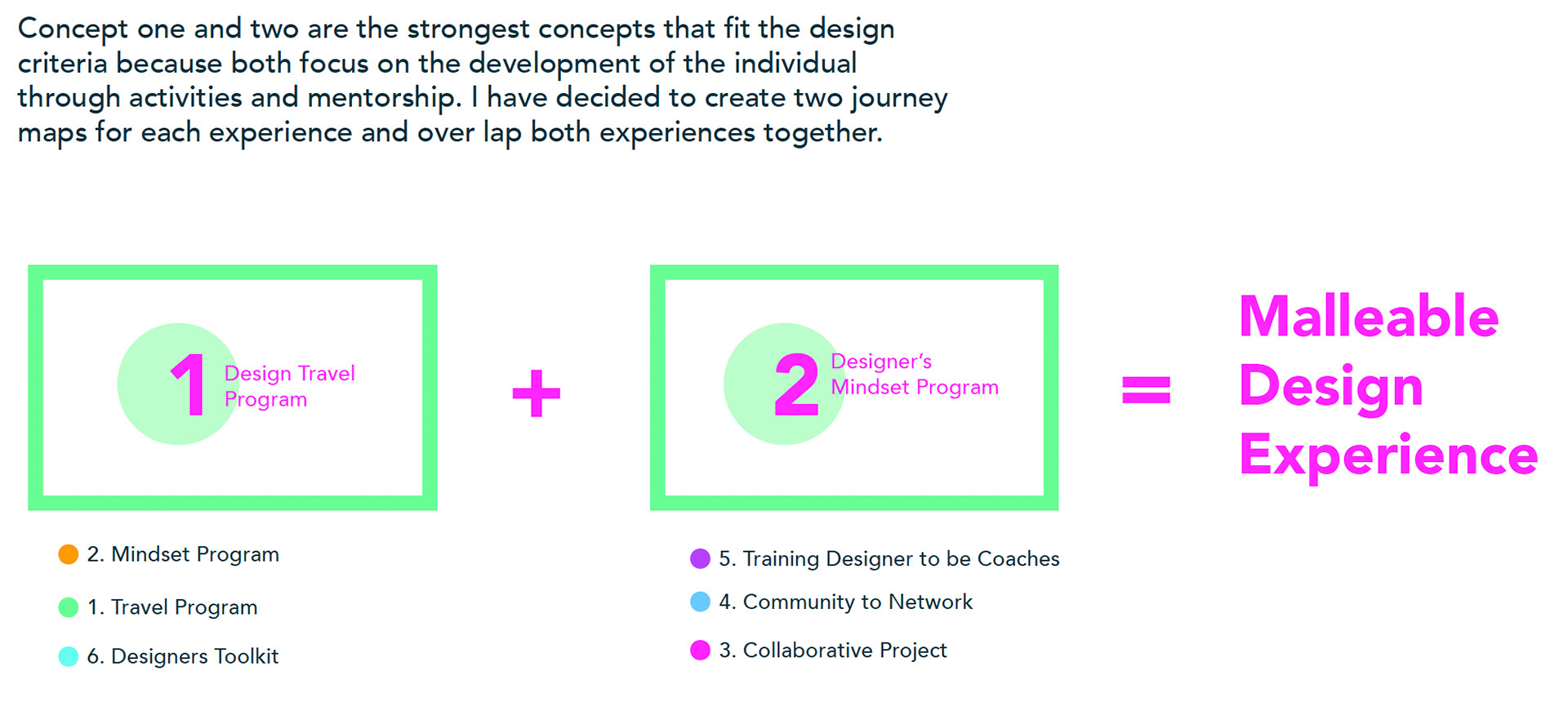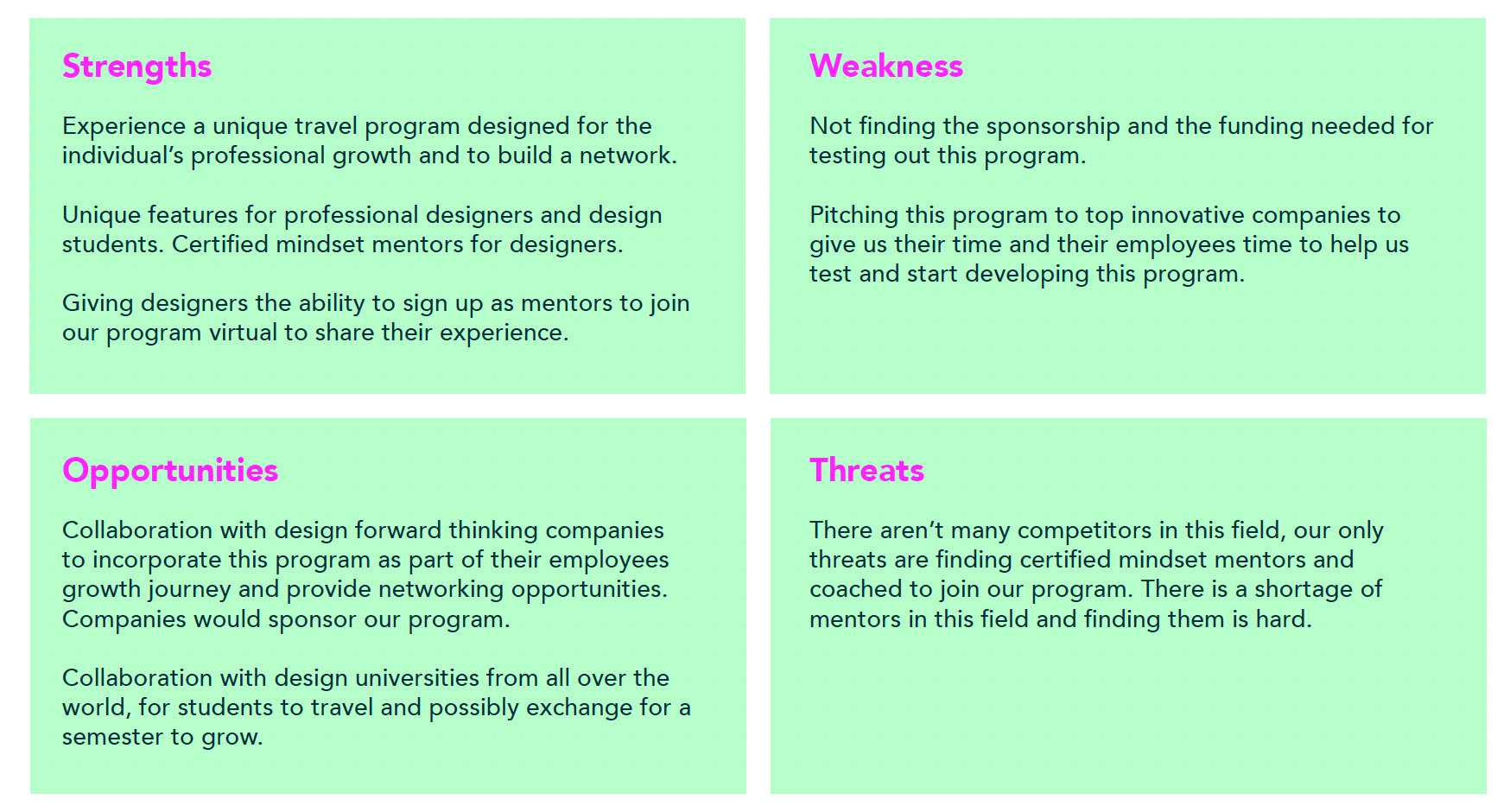 05 Final Design to Market
For this section, I focused on creating the brand and collaterals, prototyping the product and all the features, creating a business modal canvas with SWOT analysis for each section, and an implementation plan and timeline for the business.
Developing mindsets and focusing on the core of where an individual's growth comes from will lead to impactful and innovative results. I believe that changing environments and having guidance on thinking and developing a growth mindset for designers will lead to their career success and add value to their company's design culture.
I have started this research focusing on design education and business acumen. Still, the more I studied both topics, the more I knew that it's less about the business acumen and more about the growth mindset along with innovative design education. Most importantly, the environment and the people designers are surrounded and embedded in make a huge impact and differences on designers' work and the company's overall value and products.
For Professional Designers
: Based on research, the mindset is the key to growth, and designers should understand that and learn how to develop the mindset through this guided program designed just for them.
For Higher Design Education: 

Design
universities and design educators should embed and educate this in their programs and classes. Its recommended that they give their students a chance to travel and see what is happening outside of their studios. Getting exposed to culture early is better than later.
For Mindset Mentors: 
Mindset mentors are the key to this program, and it is highly recommended that they collaborate with designers. What would be even more robust is if designers get the education needed to be mindset mentors to help create change in this world.