Problem:
Advisors currently cannot customize the cost of care amount to reflect local costs or the client's specific situation that impacts the living expenses.
Success Criteria:
 From an advice quality perspective, LTC expenses can be customized to be more accurate (given living expenses vary depending on geography), and advisors can use this feature to help better position NM products.
Design Team: 
Northwestern Mutual Design Team
Timeline:
June 2021 to August 2021
Role:
Content Audit, 
Research, 
User Flows, 
Data Flow,  
Documentation, 
Wireframing / Prototyping, Leading Workshops.
Advisor Journey: Northwestern Mutual Digital Products
Long-Term Care Modal Process
Problem
In the event of an LTC event, living expenses vary by state and can be very expensive in some areas. Advisors currently cannot customize this amount to reflect local costs or the client's specific situation that impacts the living expenses.

In an LTC event, clients may decide to partially help out their aging parents while paying for some in-home care. Use cases like this need to be customizable to the user and their client.
Advisors need the ability to control additional expenses related to living expenses that may need to be incurred in an LTC event.
Mural Board
1. Background:
What is LTC? Personas, how the advisor explains LTC to clients?
2. LTC Throughout PX:
Current workflow, Data Flow chart
3. LTC Tickets:
UX Pattern Audits
Refinements and updates modal
Three exploration prototypes
Final solution
Data Flow Charts
To understand the problem, I created two data flows to understand where the data is being pulled from. The first flow is the overview of LTC across the PX experience, and the second is the modal's flow.
Exploration
Started by mocking up possible solutions and did an audit of the current PX patterns. Tested some of the solutions with advisors and documented the feedback.
Solution
Provided flexibility to the advisor when building out the LTC analysis. This specifically provides control over expenses.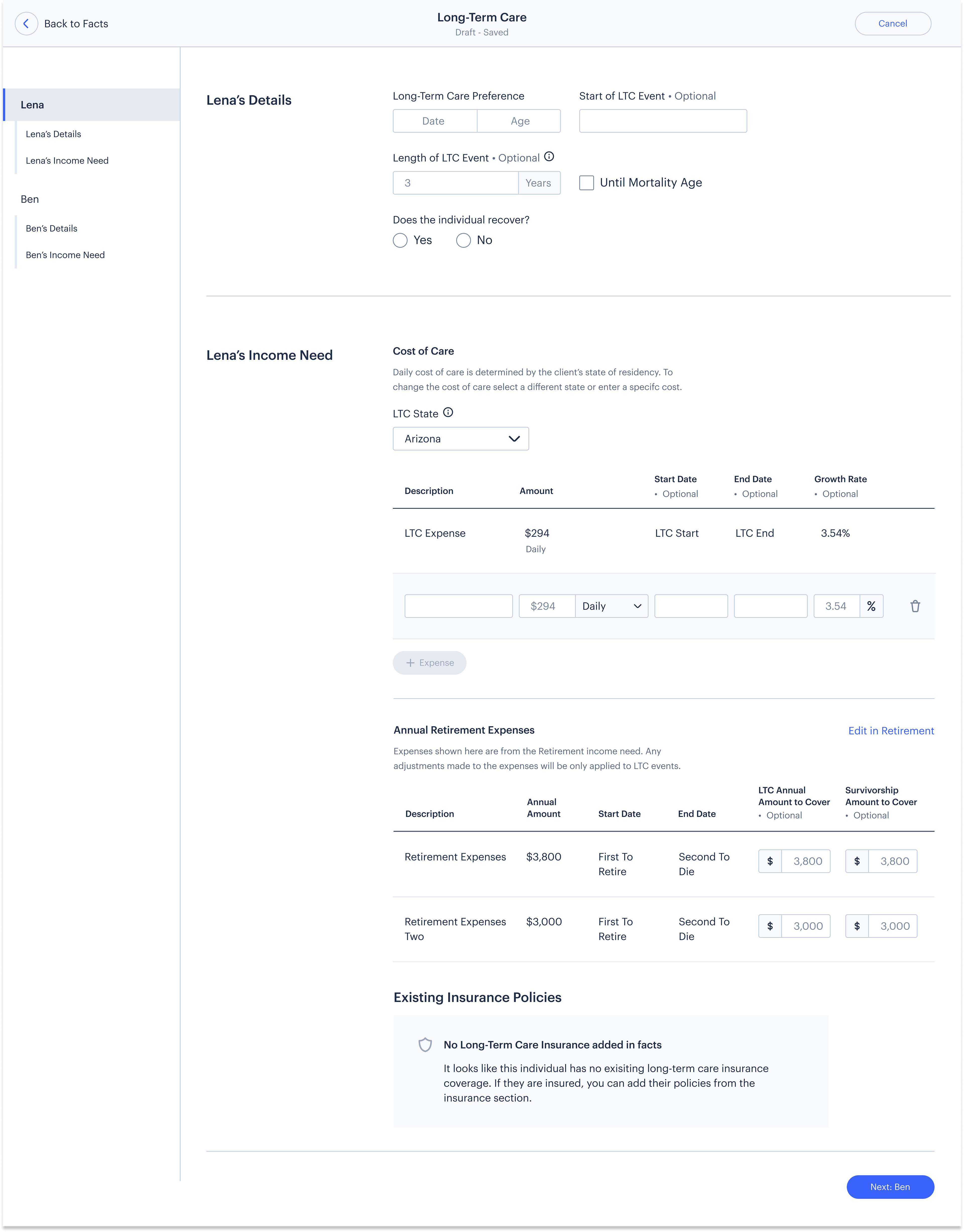 Reflection
This feature did meet not only the success criteria but also updated other pain points that were defined during the research sessions, such as visual hierarchy and UX patterns.

Looking back, I would have spent more time conducting interviews with advisors and testing the current prototype.